The 2021 Subaru Love Promise Community Commitment Award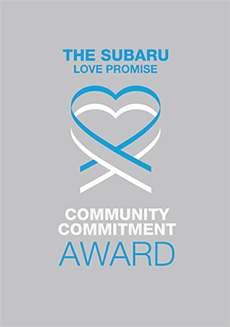 We've been nationally recognized for our dedication to our community and the Subaru Love Promise.
We're honored to receive the 2021 Subaru Love Promise Community Commitment Award. This award nationally recognizes Subaru retailers who are making the world a better place while demonstrating an outstanding commitment to supporting passions and causes in local communities. These efforts are focused in important areas such as the environment, community, health, education, and pets.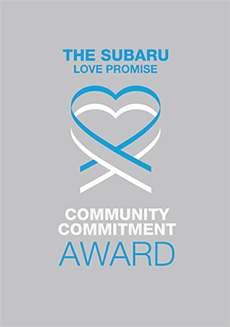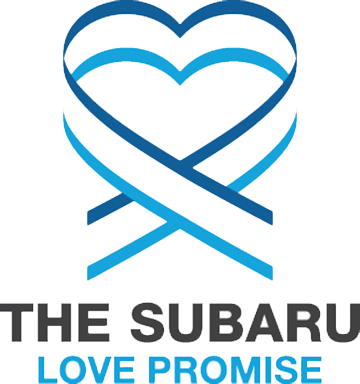 What is the Subaru Love Promise?
Subaru and our retailers believe in making the world a better place and the Subaru Love Promise is our vision of respecting all people. This is our commitment to show love and respect to our customers and to work to make a positive impact in the world.
How is Burke Subaru dedicated locally to the Love Promise?
Burke Subaru has been committed to supporting our local community for over 100 years. Our fourth generation, family owned and operated dealership works year-round to give back to charitable causes, creating and participating in projects and events throughout the year. From raising funds for veterans through our annual Car, Truck & Cycle Show, to sponsoring our local sports clubs, to presenting a graduating senior in Cape May County with our Burke Promise Scholarship, Burke is always looking for the next opportunity to support our neighbors. Additionally, Burke Subaru continues the mission of supporting our community through the Burke Promise, and makes a donation for every vehicle purchased to one of four hometown charitable organizations selected by our customers.
Humane Society of Ocean City, NJ, Beacon Animal Rescue
The Wetlands Institute, Get In Gear for D&L Trail
Get In Gear for Scholarships, Middle Township High School Baseball Team, Historic Cold Spring Village Living History Museum, The Museum of Cape May County
Cape May County Chamber, Disabled American Veterans Chapter #44, Avalon Lions Club, AMVETS Post #21, Lazarus House, Ancient Order of Hibernians, Lower Cape May Little League, Cape Express Soccer Club, Habitat of Humanity of Cape May County, American Legion Post 331, The Lunch with Lynch Foundation
Volunteers in Medicine, Holy Redeemer Home Care & Hospice, American Cancer Society , Alex's Lemonade Stand Foundation, Cape Regional Health System, The Arc of Cape May County
Love Promise Stories from Burke Subaru
Subaru and Burke Subaru believe in making a positive impact on the communities in which we live and work. We uphold that belief through our Love Promise Community Commitment. Every month, we select inspiring stories from customers and partners from around our area who strive to support our collective commitment and feature them here
Leadership When It Counted Most - Vicki C
Doug Burke, Operations Manager and General Counsel at Burke Subaru served as Chairman of the Board at the Cape May County Chamber of Commerce 2019-2021. This was not just a two-year commitment showing up to run a meeting once a month but a major commitment of time leading up to the Chairmanship, moving through the second and first Vice Chair positions, serving on the Executive Committee for many years, and lending his expertise to multiple committees like Membership, Finance, and Strategic Planning. Doug led the Cape May County Chamber of Commerce through the most difficult era of the modern business age – the COVID-19 pandemic. Doug confidently led the organization's transition to online programing and welcomed non-members of the Chamber to participate, immediately adopting the philosophy that in Cape May County, "we're all in this together". During this course of time, the Chamber hosted over 70 free webinars offering valuable information to the business community on loans, grants, marketing programs, new products, government statutes and more. And if this was not enough, during Doug's tenure as Chairman of the Board, he oversaw the long-awaited building renovation project on the Chamber's 50-year-old headquarters. Doug led the Chamber through the transformation of an outdated information center it into a state-of-the-art Welcome and Business Center. Some people have time, talent, or treasure to offer. As a member of the Cape May County Chamber, Doug Burke and Burke Subaru generously offer all of these, and we couldn't be more grateful.
---
Francey Burke, Honoree Extraordinaire! - Vicki C
The Cape May County Chamber of Commerce Education Foundation asked Francey Burke, Director of Special Events and Community Relations at Burke Subaru to allow the organization to recognize her as its 2020 FORE Education Golf Tournament Honoree. Each year, an individual in the community is celebrated who "inspires others to pursue educational opportunities, fulfill their dreams, and advance Cape May County's talent, entrepreneurial spirit, and economy". This event is the primary fundraiser (a word Francey doesn't like) for the organization and while Francey was hesitant to be featured as Honoree, she jumped in with great gusto for the organization. Unfortunately, the covid pandemic severely limited our ability to honor Francey as planned and although we held the round of golf in 2020, the dinner celebration was postponed until 2021.For the first time in event history, Francey Burke was a two-time Honoree of the FORE Education Golf Tournament, and her tireless efforts did not disappoint, raising $98,000 to support, enhance and promote education and training programs that develop the skills, knowledge and leadership of Cape May County professionals and youth to advance local talent, entrepreneurial spirit, and economic growth. Francey has set a very high bar for future Honorees to match!
---
Burke Motor Group receives prestigious award - Francey B
Burke Motor Group recently received the prestigious New Jersey Family in Business award, one of only eleven businesses in the entire state to receive such an honor. Burke Motor Group has been dedicated to community and our fourth generation dealership has been doing just that for over 100 years. We were honored to be recognized by Fairleigh Dickinson University for this honor.
---
Holiday Wrapping Event at Burke Subaru - Francey B
Burke Subaru held a unique holiday wrapping event in our showroom. We invited customers and staff to bring their holiday packages and hired a professional wrapper to deck out their gifts! It was a well attended and fun event that provided a very useful kind of holiday cheer!
---
Cars, Trucks & Cycles for Coasties - Marla B
The Cape May County Coast Guard Community Foundation was honored to be the benefactor of the 2021 Burke Motor Group's Car, Truck & Cycle Show on November 6, 2021. We were delighted to be a part of an event that has supported several community organizations and Veterans groups over the past seven years. After holding a virtual event in 2020, it was a breath of fresh air for Burke Motor Group to welcome back over 150 custom car registrations, a local band, food trucks, and display vehicles brought in by local fire and police along with a USCG 26-foot Trailerable Aids to Navigation Boat (TANB). Coast Guard service members performed the challenging task of judging the many exceptional participants in the show. They did an amazing job choosing the best of each category and then Best in Show. At the close of a unique and fun filled fall day we were presented with a check for $7,150. This extremely generous donation, presented to us on behalf of Burke Motor Group in partnership with Sturdy Bank, will allow us to maintain our mission of nurturing the relationship between Coast Guard members and their families and the people of Cape May County. We accomplish this by developing our own programs, supporting the efforts of other organizations and facilitating active engagement between the Coast Guard and Cape May County. Our programs include the Community Activity Program, the Seamanship Award Program and the Welcome Ashore! Program as well as providing Holiday meals, baby showers and other support as needed for active-duty service members, their families and recruits. Most notably, our Graduation Sign Program has proved to be a prime example of how our community supports the Coast Guard. The sign program started due to Covid-19 with the closing of graduations to attendance by family members for the over 4,000 recruits that come through the U.S. Coast Guard Training Center Cape May for Basic Training each year. This program allowed families of the graduates to express their love, support and pride for the accomplishments of their graduates with just a simple sign that was created and held up as they departed from Cape May. Community members lined the streets for over a year with personalized signs ordered by family members. When graduations opened up again and families were able to attend, we feared the Sign Program would come to an end. However, community members continue to line the streets each week and congratulate our newest Coast Guardsmen. The Cape May County Community spirit is strong for our service members, local businesses, and members of our community. Burke Motor Group's commitment to our active-duty military and veterans is a prime example of what it means to be a Proud Cape May County Coast Guard Community Member and we are ever grateful for their support.
---
Burke Motor Group Benefit Car Show! - Francey B
Burke Motor Group recently held our annual benefit Car Show, which we were proud to host in person in 2021! We had over 160 cool cars, trucks and cycles, and 500 people in attendance. We were honored to have the 911 Tribute Fire Engine on display, it traveled all the way from NY to attend the show! We were especially proud to benefit our local Coast Guard in 2021, and presented a check to them in the amount of $7150.
---
You had me at Woof - Phillip B
As an animal shelter we work hard to find each and every animal the loving home that they deserve. Sometimes the applications for a litter of puppies come flying in and happy families head out the door eager to start life's journey with their furry new addition. Sometimes a popular breed pet finds its way into our care and dozens of applications come rolling in to snatch them up and welcome them into their home. All this is fantastic and we cherish each and every time one of our animals finds their forever home. But sometimes we get a dog or cat that may have a medical, age or behavioral issue....and many times they do not find a home as quickly as the others....and many times they wait.....and wait. Sometimes days turn to weeks, weeks to months and in the case of Dusty (and others)....years. Dusty is an adorable mixed breed dog that was brought to our shelter after being found running loose overseas. In that many times we do not know the entire past of an animal we must assess them when they come to the shelter and work with them on any issues to get them prepared for life in a home Dusty was a very scared and shy boy and his defense mechanism was a fearful growl that he would terrify any stranger. His issues did not help endear himself to potential adopters so sadly he was continually passed over and remained at the shelter. We are a land of second chances and never gave up on Dusty. We continued to work with him....we continued to give him a place to live and continued to give him love and treat him like a little prince. We know that special person was out there somewhere. Well, as it turns out one of our veterinary clients had recently lost their beloved dog of many years and after going through a grieving process were ready to adopt another dog. They didn't go to meet the puppies.....they didn't go to meet the perfect.....they wanted to meet Dusty. THEY WANTED TO MEET DUSTY.....they knew he wasn't perfect, they knew he would require special training and attention and they knew he would change their lives. and he has. Dusty came to visit us the other day and was treated like a rock star. Everyone ran out to see him, pet him, take pictures of him.. See the irony of this story is that we thought we were saving Dusty's life, which we did BUT , this little once considered throw away dog has(and continues) changed so many lives along the way. He has brought love, care and passion to a list of people and could be the spokespup for what unconditional love means. Thank you Dusty dog for changing so many lives. Thank you Dusty dog for filling your new home with your quirkiness, a little craziness and tons of love and fun. Thank you Dusty dog for solidifying our mission of what we do and why we do it and that you don't have to be perfect to be perfect......you had me at woof(or should I say growl)
---
Burke Subaru Hosts Microchip & Tag Event - Gia G
For Subaru Loves Pets month, Burke Subaru teamed up with our partner shelter, Humane Society of Ocean City NJ (HSOCNJ), to host a special Microchip & Tag Event. For just $25, HSOCNJ microchipped both dogs and cats, and also provided FREE custom engraved tags. Pet parents enjoyed complimentary dinner which included hot dogs, sausage, kielbasa and soft pretzels, and were able to take home special gifts for their fur-babies such as CHEWbaru toys and collapsible travel bowls.
---
Burke Sponsors FORE Education Golf Tournament - Gia G
Burke Subaru was recently a proud sponsor of the Cape May County Chamber of Commerce Education Foundation's 2021 FORE Education Golf Tournament on Sept. 21, which benefitted programing and scholarships for college-bound and post-secondary adult education students in Cape May County. This year's event honored our very own Francey Burke, Director of Special Events & Community Relations, for her tremendous efforts in raising scholarship funds to benefit Cape May County students. The tournament included 18 holes of golf, premier welcome gifts, specialty cocktails and wine tastings, a fabulous silent auction, gourmet lunch and dinner, prizes and contests, and many other exciting amenities. Francey Burke shares, "For over 25 years, in my role as Director of Community Relations and Special Events at Burke Subaru, I have had the opportunity of creating and organizing many unique events for a myriad of organizations to benefit Cape May County. Many of these special events have been in support of scholarships and educational endeavors. Burke is thrilled to keep true to our Burke Promise, the Subaru Love Promise, and the Subaru Loves Learning initiative by supporting this event which assists local students and promotes education in our community."
---
Burke Holds School Drive for Lower Twp. School - Gia G
During Subaru Loves Learning month, Burke Subaru held a Back to School Drive to collect supplies needed for our partner school, David C. Douglass Veterans Memorial School. Principal Christopher Shivers recently stopped by Burke Subaru to pick up the supplies collected, and took back to the school with him two bins full of backpacks, markers, crayons, folders, notebooks and more. Keeping our mission through the Burke Promise and our dedication to the community, Burke Subaru was proud to provide our local students with the supplies needed for a successful school year!
---