The 2023 Subaru Love Promise Customer and Community Commitment Award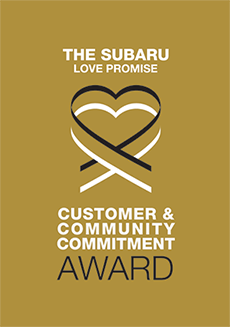 We've been nationally recognized for our dedication to our customers, our community, and the Subaru Love Promise.
We're honored to receive the 2023 Subaru Love Promise Customer and Community Commitment Award. This award nationally recognizes elite Subaru retailers who provide an exceptional customer experience at every interaction with Subaru. These retailers have also demonstrated an outstanding commitment to supporting passions and causes in their local communities in important areas such as the environment, community, health, education, and pets.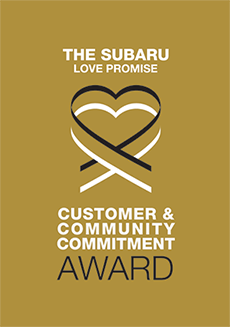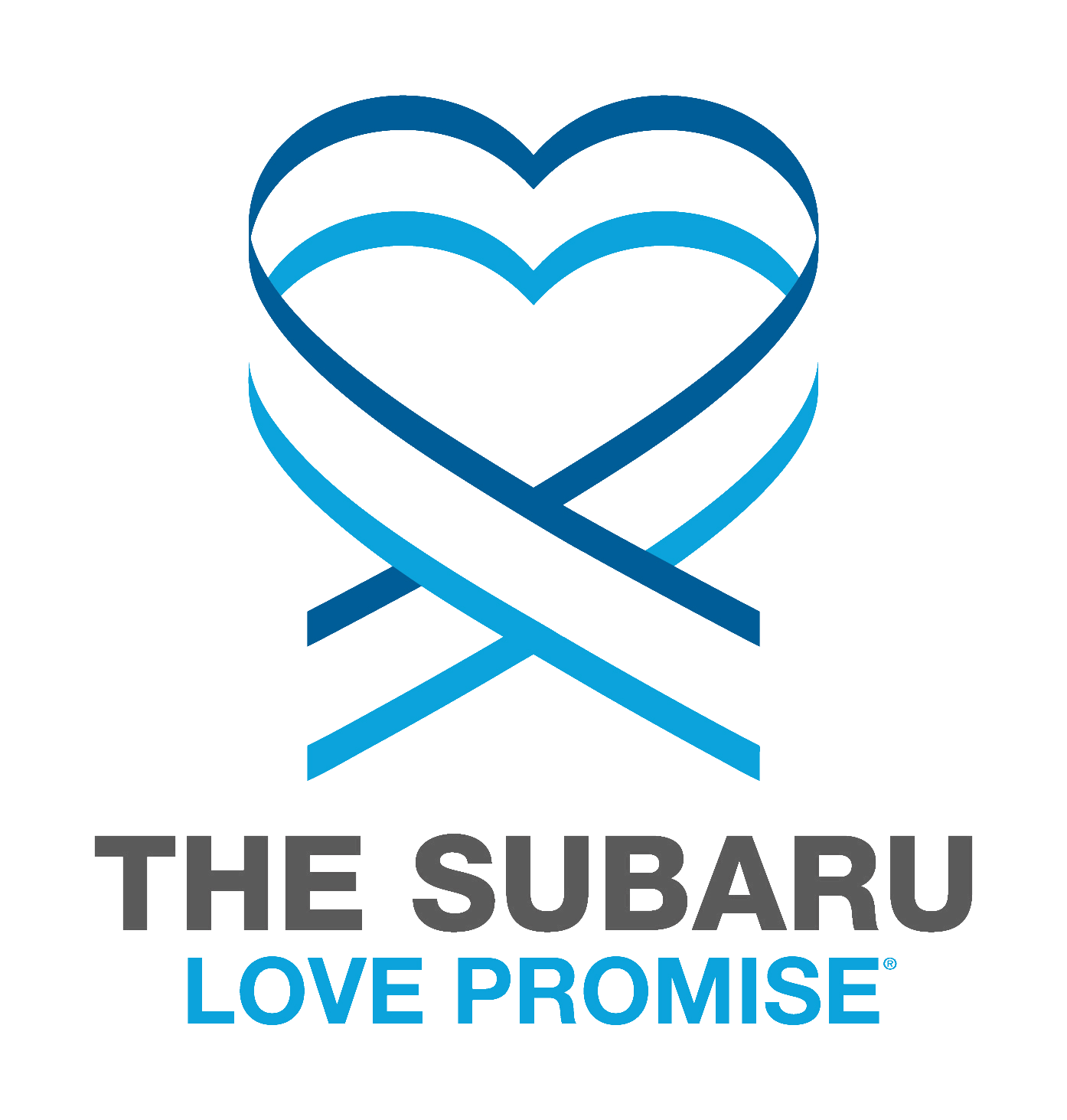 What is the Subaru Love Promise?
Subaru and our retailers believe in making the world a better place and the Subaru Love Promise is our vision of respecting all people. This is our commitment to show love and respect to our customers and to work to make a positive impact in the world.
How is Burke Subaru dedicated locally to the Love Promise?
Burke Subaru has been committed to supporting our local community for over 110 years. Our fourth generation, family owned and operated dealership works year-round to give back to charitable causes, creating and participating in projects and events throughout the year. From raising funds for veterans through our annual Car, Truck & Cycle Show, to sponsoring our local sports clubs, to presenting a graduating senior in Cape May County with our Burke Promise Scholarship, Burke is always looking for the next opportunity to support our neighbors. Additionally, Burke Subaru continues the mission of supporting our community through the Burke Promise, and makes a donation for every vehicle purchased to one of four hometown charitable organizations selected by our customers.
Humane Society of Ocean City, NJ, Beacon Animal Rescue
The Wetlands Institute, Get In Gear for D&L Trail
Get In Gear for Scholarships, Middle Township High School Baseball Team, Historic Cold Spring Village Living History Museum, The Museum of Cape May County
Cape May County Chamber, Disabled American Veterans Chapter #44, Avalon Lions Club, AMVETS Post #21, Lazarus House, Ancient Order of Hibernians, Lower Cape May Little League, Cape Express Soccer Club, Habitat of Humanity of Cape May County, American Legion Post 331, The Lunch with Lynch Foundation
Volunteers in Medicine, Holy Redeemer Home Care & Hospice, American Cancer Society , Alex's Lemonade Stand Foundation, Cape Regional Health System, The Arc of Cape May County
Love Promise Stories from Burke Subaru
Subaru and Burke Subaru believe in making a positive impact on the communities in which we live and work. We uphold that belief through our Love Promise Community Commitment. Every month, we select inspiring stories from customers and partners from around our area who strive to support our collective commitment and feature them here
Burke Subaru hosts the Women's Only Network - Francey B
Burke Subaru hosted the Women's Only Network, a large group of ladies in various occupations. They are an energetic group! We provided a gourmet dinner, a special Subaru themed gift to all attendees, and a seminar by our own business manager, Paula Hopkins. Paula did an amazing job with the ladies with her seminar about the significance of women in the automotive industry, and also provided information about being an informed customer. We were so pleased to host this group of dynamic women from all occupations and walks of life. It was also an excellent opportunity for them to network with each other, and welcome some newcomers to the group.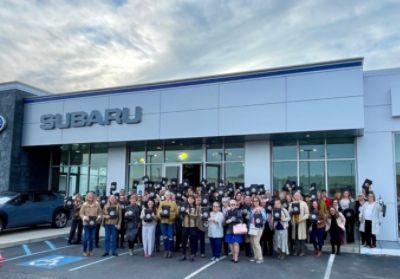 ---
Burke Subaru proudly supports our Veterans! - Francey B
Burke Subaru is proud to support our Veterans! We support them every day, year round, with substantial discounts on service work. We are also so pleased to support the American Legion Riders Post 352, and their mission to support Veterans.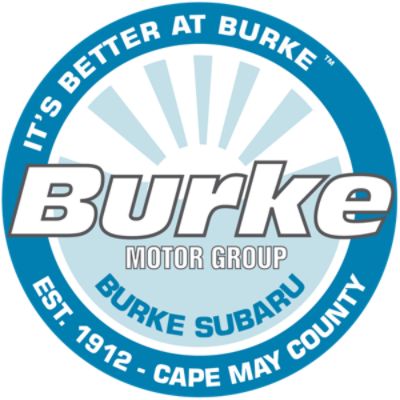 ---
Burke Subaru supports No Limits Academy - Francey B
Burke Subaru is so pleased to support a local Boxing Academy, No Limits Academy, which provides a safe haven for area youth. The Academy is much more than boxing, it provides help with homework, life skills guidance, and education in the importance of community service. We applaud the efforts of this outstanding organization that supports our youth!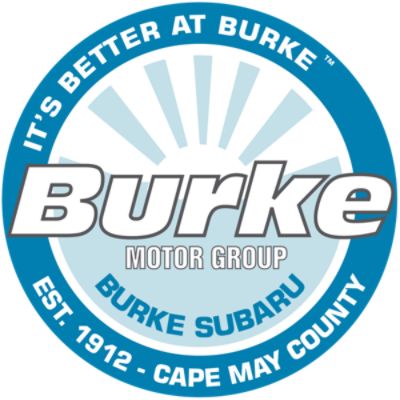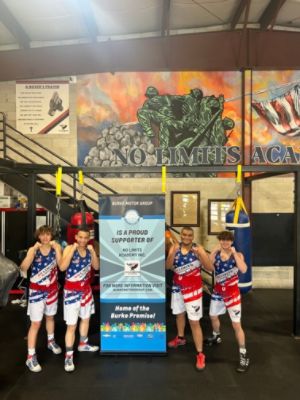 ---
Burke Subaru is part of the fabric of our community! - Judy S
Burke Subaru is part of the fabric of our community and has been for generations. They are charitable at every level from hosting community events and supporting our veterans to helping the next generation through annual sponsorships. Burke Subaru and the entire Burke team is invested in our community and their commitment makes a difference at every turn. Court Appointed Special Advocates (CASA) for Children of Atlantic, Cape May, and Camden Counties was honored to be chosen as a Burke Promise organization. The generous donation will help us recruit, train, and support community volunteers who advocate for children living in foster care. Together, we are helping to improve the lives of local children, and we believe there is no nobler cause. "No man stands so tall as when he stoops to help a child."- Abraham Lincoln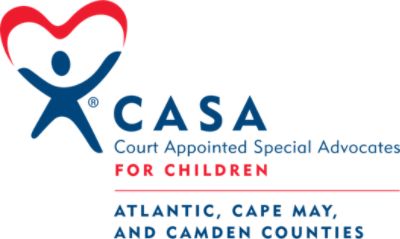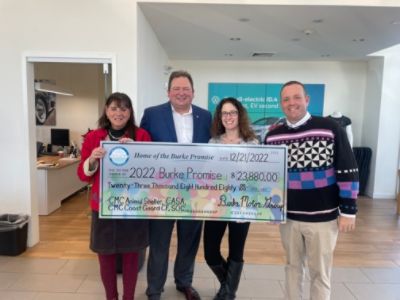 ---
Kanen's Christmas - Lindsey D
For the second year in a row, Middle Township School District staff members helped collect gifts for students in need through Kanen's Christmas. This organization was created in 2021 as a collaboration between Pam Shute (Supervisor of Elementary Education), Kelly Cox (Elem. #1 Guidance Counselor), and Lauren Keating-Wear in memory of one of Middle Township's students, Kanen Keating-Wear, who passed away in 2019 from Ewing's Sarcoma. Staff throughout the district helped to provide gifts and wrapping paper for 42 Middle Township families which include over 140 children. The holiday event was expanded this year to provide items for a holiday meal (15 pound turkey, stuffing, macaroni and cheese, mashed potatoes, vegetables, etc.), additional non-perishable items, and a $70 dollar Walmart gift card for each of our families. We thank Burke Motors for their contributions to making this event a success.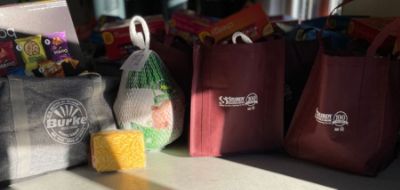 ---
Burke Subaru is a drop off site to properly retire American Flags! - Francey B
We are pleased to be a drop off site for worn American Flags. We are accepting them on an ongoing basis at Burke Subaru, and have made arrangements to have them respectfully retired. We are very proud to provide this service to our community!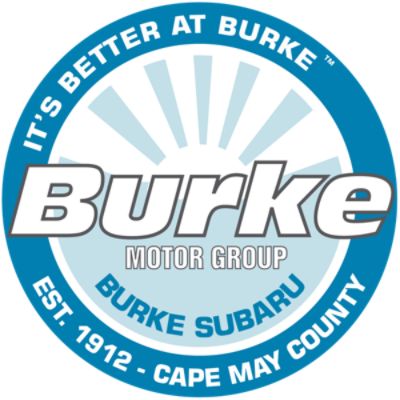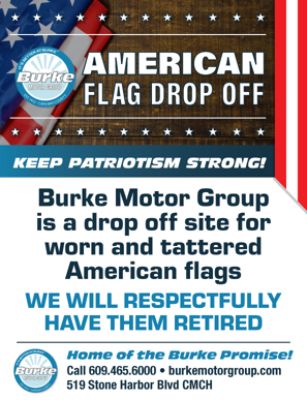 ---
Cars, Trucks & Bikes for Coasties! - Marla B
The Cape May County Coast Guard Community Foundation was honored to be the beneficiary of the 2022 Burke Motor Group's Car, Truck & Cycle Show for the second year on September 2, 2022. This year we were part of the planning process of the event. We were able to assist in providing amazing community volunteers, USCG assets like a USCG 26-foot Trailerable Aids to Navigation Boat (TANB) and an Air Station Atlantic City fly over. Coast Guard Service Members acted as judges of the many exceptional participants in the show. They did an amazing job choosing the best of each category and then Best in Show. At the close fun filled day we were presented with a check for $10,000. This extremely generous donation, presented to us on behalf of Burke Motor Group in partnership with Sturdy Bank, will allow us to maintain our mission of nurturing the relationship between Coast Guard members and their families and the people of Cape May County. We accomplish this by developing our own programs, supporting the efforts of other organizations, and facilitating active engagement between the Coast Guard and Cape May County. Our programs include the Community Activity Program, the Seamanship Award Program, and the Backpack Brigade Program. We also offer support to other organizations that benefit active-duty service members, their families, and recruits. The Cape May County Community spirit is strong for our service members, local businesses, and members of our community. Burke Motor Group's commitment to our active-duty military and veterans is a prime example of what it means to be a Proud Cape May County Coast Guard Community Member and we are ever grateful for their support.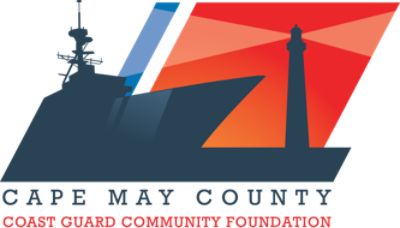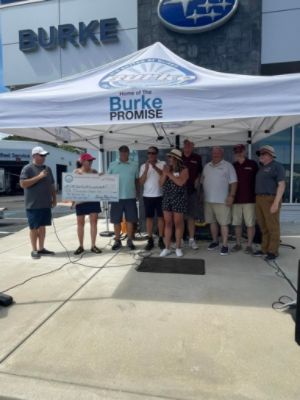 ---
Burke Subaru hosts our Burke Promise reception and check presentation - Francey B
Burke Subaru hosted a reception in December 2022, the celebration of the culmination of our year-long efforts to raise funds for local charitable organizations. We invited our 2022 recipients to be there, and also invited the newly chosen 2023 recipients to be there to all tell their stories and missions. Our entire staff got to meet these fine organizations and the interaction between all our guests was inspirational. We were proud to present a check for $23,880. The Burke Promise donations represent the charity of choice that we contribute to on behalf of our customers, every day, all year, with every car sale or lease. The customers make their selection of one of four organizations at the time of their car delivery. It was a joyous occasion as we celebrated the local organizations and welcomed the next four recipients to the Burke Promise endeavor. We look forward to supporting them every day, all year!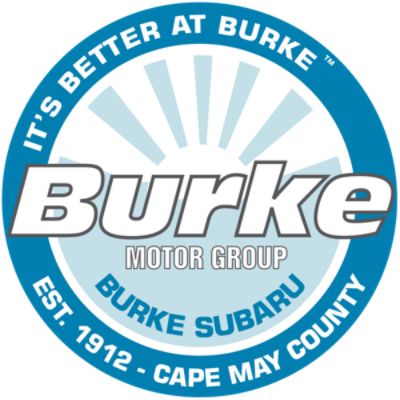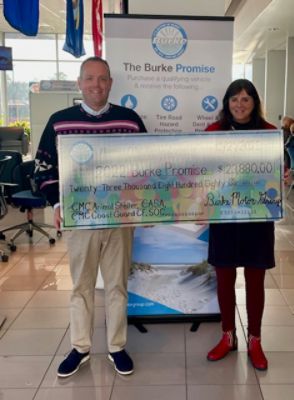 ---
Burke Subaru hosts Sensory Sensitive Santa Event for special needs kids - Francey B
Burke Subaru organized a very special event for area special needs kids in December 2022. Our special event had low lights and sounds, and a special Santa so that all the kids could have an enjoyable and quiet holiday event. The children and their families were treated to dinner and desserts, and each child received a gift from Santa. The holiday bear we selected for this event from the great folks at Subaru Gear had a giveback feature that will benefit future educational endeavors. It was a very quietly festive night for these special kids! We were honored to be their hosts. Santa saw over 50 children that evening.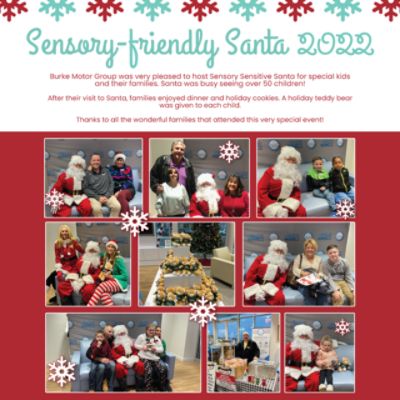 ---
Burke Subaru assists Puerto Rican Action Committee (PRAC) - Francey B
Burke Subaru was pleased to assist PRAC and other local health care organizations providing COVID-19 vaccination/booster for the community. It was a great opportunity to get vaccinated and to help the community stay healthy. The coats that were provided by Burke Subaru will assist the community for the upcoming winter season.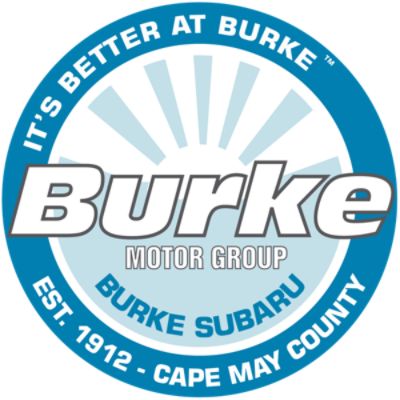 ---